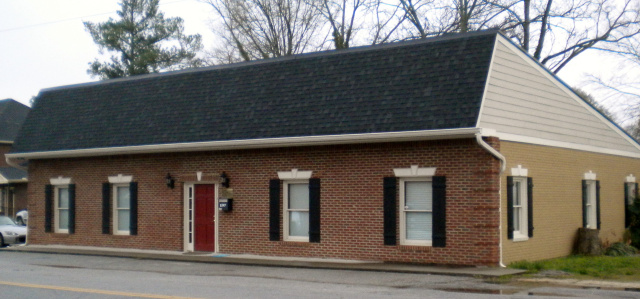 8397 Duncan Street, Douglasville, Ga 30134.
We are next door to ACE Hardware.
Click on map page for a detailed map to our office location.
How do I become a client?
Complete 2021 Tax Organizer, 2021 Engagement Letter and gather all of your tax return documents and drop them off at our office. (See map) If you have a complex return you can call 770-949-0723 and make an appointment. Camp-Pilgrim is ready and willing to help you with your taxes and all other accounting needs. We offer a price per form preparation charge which can save you money.
In West Georgia, CPA Stands for Camp, Pilgrim & Associates!
Its tax season again and there is no company better prepared to handle all of your tax return preparation needs than

Camp, Pilgrim & Associates, CPA's

. At Camp-Pilgrim, we believe in providing accurate returns, prepared by a staff with over 114 years of combined experience, at a fair price. Camp-Pilgrim is open for business 52 weeks per year and offer a comprehensive variety of services for all of our clients, both big and small. If you need someone who is experienced and knowledgeable in tax return preparation you should call

Camp-Pilgrim

today at

770-949-0723

.
When trusting someone to prepare something as important and serious as a Federal or State tax return, a Certified Public Accountant is your best choice. To become a CPA, a candidate is required to have a bachelors degree + two years (4000 hours) of accounting work experience under a licensed supervisor and then must pass a 14 hour Uniform CPA Exam. In order to remained licensed, a CPA is required to complete 80 hours of Continuing Professional Education every two years. This education helps a CPA stay on top of the ever changing tax laws. Selecting the right tax preparer could make the difference between sitting at home enjoying the advantages of a healthy tax refund or sitting in an IRS office, nervously explaining every expense you claimed for the past five years.
A highly trained CPA provides the added benefit of being able to configure an overall tax plan, and can guide you through complex financial situations. If you've recently been divorced, retired, opened or closed a business, or had any other lifestyle changes that significantly impacts your financial situation, a CPA is your best bet. A CPA has legal standing to appear in place of a taxpayer at the IRS. The staff at Camp-Pilgrim can prepare any tax return, big or small. We will make sure that you take advantage of the latest tax laws and that you pay the smallest amount of tax you are legally required to pay.
According to the IRS, it takes the average person 14 or more hours to complete their Income Tax Return each year.

The benefits you receive from us go far beyond the preparation of your return.

We provide personal guidance to insure all advantages and opportunities to save tax dollars are taken.

This provides you with confidence and security that you are taking advantage of every opportunity under the current tax laws, while reducing the risks of an IRS audit
Does Camp-Pilgrim do anything other than tax returns?
Yes! Camp-Pilgrim also serves West Georgia's small business accounting needs. Our services include monthly bookkeeping, Payroll / Paycheck service, preparing financial statements, compilations, reviews and audits, construction accounting and estate planning as well as corporate (S-CORP / C-CORP), partnership, non-profit, trust and estate tax return preparation. We can prepare all of your Federal and State payroll tax forms, as well as, take care of many of the paperwork headaches of your business and let you actually run your business. Many small business owners lose control of their business because they spend too much time handling the office work. Call today and let Camp-Pilgrim free you from your paperwork shackles.
Every year, many of Camp-Pilgrim's new clients are pleasantly surprised to find that they pay less to have their tax return prepared by Camp-Pilgrim than they did at their previous preparer. If you are a small business owner, the real question is can you afford not to use a CPA? Without proper financial accounting and timely governmental tax filings as required, many businesses go spiraling downward and go out of business. Penalties and interest charged by the government for late or missed filing deadlines can be very hefty and eat away at your companies bottom line. Utilizing a CPA, a business owner can make informed decisions that will help them in their overall business plan and insure that all governmental filing requirements and payments are followed.
Camp, Pilgrim & Associates
offer extended hours during tax season for your convenience. We are open 6 days a week and offer later hours by appointment only. Clients can drop off their tax return documents at the reception window or our Drop Box which is open 24 hours / 7 days per week. Make sure to have all of your tax information documents when signing in as this will help speed up the completion of your return.
Call Camp, Pilgrim & Associates at

770-949-0723

to find out for yourself how we can help with all your accounting, tax preparation and estate planning needs.